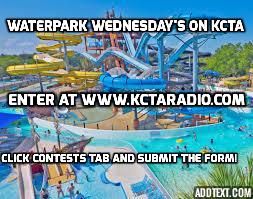 KCTA partnered with CRT Flooring and Continental Batteries to give you Waterpark Wednesdays! Every Wednesday, we will announce a random winner for 4 tickets to Schlitterbahn! All you have to do is click on the CONTESTS tab on our website and fill out the form.
We will announce the winner every Wednesday morning on the air and we will send you an email. Good luck to everyone who participates!
***Contest Rules***
One entry per person per week. Once you win, you are no longer eligible for this contest.
Tickets must be picked up or mailed out to you by each Friday after a winner is picked. If arrangements aren't made, tickets will be forfeited.
We will also take entries by mail. Send your name and address to KCTA Radio, 1602 S Brownlee Blvd. Corpus Christi, TX 78404.
Thanks for entering!